Can the reasons of such a change with timer postback be related to higher and faster monetisation expectation from Apple? Are IAP and admonetisation in Apple's plan in early future ?
To me, this timer is a game changer. It says 'Hey can you please be more efficient on purchase and so give me earlier my 30% Apple fees?' and will for sure change Apps monetisation style.
Little recap on the logic between iOS 14 and how you loose real time optimisation:
The introduction of Skadnetwork add a Potsback timer logic as below:

After the registerAppForAdNetworkAttribution() => 24 hours Timer starts
Then one conversion value by updateConversionValue(_:) limited by 6 bits only
Then the updateConversionValue(_:) if > at the previous one = if the conversion value increased for instance from level 1 to 10
IAP historic – A Lawsuit battle lost by the past by Apple and challenging process for Apple?
Just as a reminder this letter from Tim cook to employee, quite obvious after the compagny lost 32$ millions in 2014 :
'Team,
I want to let you know that Apple has entered into a consent decree with the U.S. Federal Trade Commission. We have been negotiating with the FTC for several months over disclosures about the in-app purchase feature of the App Store, because younger customers have sometimes been able to make purchases without their parents' consent. I know this announcement will come as a surprise to many of you since Apple has led the industry by making the App Store a safe place for customers of all ages.
From the very beginning, protecting children has been a top priority for the App Store team and everyone at Apple. The store is thoughtfully curated, and we hold app developers to Apple's own high standards of security, privacy, usefulness and decency, among others. The parental controls in iOS are strong, intuitive and customizable, and we've continued to add ways for parents to protect their children. These controls go far beyond the features of other mobile device and OS makers, most of whom don't even review the apps they sell to children.
When we introduced in-app purchases in 2009, we proactively offered parents a way to disable the function with a single switch. When in-app purchases were enabled and a password was entered to download an app, the App Store allowed purchases for 15 minutes without requiring a password. The 15-minute window had been there since the launch of the App Store in 2008 and was aimed at making the App Store easy to use, but some younger customers discovered that it also allowed them to make in-app purchases without a parent's approval.
We heard from some customers with children that it was too easy to make in-app purchases, so we moved quickly to make improvements. We even created additional steps in the purchasing process, because these steps are so helpful to parents.
Last year, we set out to refund any in-app purchase which may have been made without a parent's permission. We wanted to reach every customer who might have been affected, so we sent emails to 28 million App Store customers – anyone who had made an in-app purchase in a game designed for kids. When some emails bounced, we mailed the parents postcards. In all, we received 37,000 claims and we will be reimbursing each one as promised.
A federal judge agreed with our actions as a full settlement and we felt we had made things right for everyone. Then, the FTC got involved and we faced the prospect of a second lawsuit over the very same issue.
It doesn't feel right for the FTC to sue over a case that had already been settled. To us, it smacked of double jeopardy. However, the consent decree the FTC proposed does not require us to do anything we weren't already going to do, so we decided to accept it rather than take on a long and distracting legal fight.
The App Store is one of Apple's most important innovations, and it's wildly popular with our customers around the world because they know they can trust Apple. You and your coworkers have helped Apple earn that trust, which we value and respect above all else.
Apple is a company full of disruptive ideas and innovative people, who are also committed to upholding the highest moral, legal and ethical standards in everything we do. As I've said before, we believe technology can serve humankind's deepest values and highest aspirations. As Apple continues to grow, there will inevitably be scrutiny and criticism along our journey. We don't shy away from these kinds of questions, because we are confident in the integrity of our company and our coworkers.
Thank you for the hard work you do to delight our customers, and for showing them at every turn that Apple is worthy of their trust.
Tim'
How IAP works at the moment for monetisation of free apps ?
By now, free apps monetise by Admon or IAP (inapp ads purchase). If we speak only about IAP they have real time postback that allow them to use ROAS cohorted user-level that helps them to estimate revenue to reach in X days within a time period to reach the payback windows and so get back the money they invested. A really good article from medium explain perfectly how it works.
Free App publisher at the moment who bet on IAP have a really long funnel of conversion :
Buy a user / Provide a free app
Register a user/ Get user data
Onboard inapp a user to make him discover the game
Retain a user with a push lifecycle on-boarding
Convert FINALY the user to make them pay and estimate the revenue generated past 7 days clic and 1 day view – as the industry standard is.
A user make a purchase > Apple get 30% fees on it.
Apple a secure environment, but even more a premium one that want you to be obvious on the transaction integrated in Apple environment!
Let's not forget Apple is Premium and design oriented ! The look and feel has always been central from how disruptive looks the smartphone to the unic UI/UX of the OS. The guidelines on how and where to show an inapp purchase popup and how to regulate the flow are strongly adviced by Apple since 2016 ; it is not new and It is not since yesterday they promoted subscription model and even less since apple arcade is out !
The user experience on Apple need to be the best ; so it justify that you pay increasingly expansive devices ! Advertiser need to be more obvious and less predatory according to apple to make it clear 'my game is free BUT you will pay' and this with a really fast and early postback on the first purchase !
Apple Arcade already a subscription model in the store !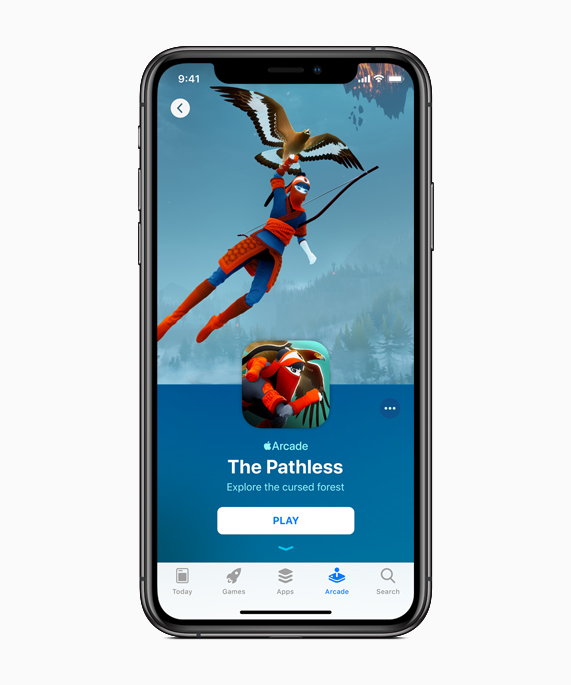 Apple Arcade is born in September 2019 and already is a subscription model to access apps without ads on several iOS OS devices ! This experience cross device is highly visible in the store next to apps and can clearly push a game from 0 to thousands of players.
The model is already a subscription model pushed by Apple without any IAP in the games and any Ads as well ! And when you actually read it closely you also find back this 'user privacy' argument hardly pushed on iOS 14.
Subscription model – Already a success for dating and fitness apps perfectly integrated into Apple !
The funnel of subscriptions apps is faster and revenue is easier to get ! Each dating apps are well known for their success on D0 Revenue where the payback window is way faster than other verticals as the payment flow is directly on the on-boarding.
Indeed, by the first time you get a new user, you directly push a subscription model that make the user make a payment which is way less un-predictable than IAPs in gaming and way much loved by Apple. Because even if you bet on admonetisation to pay back the price of your user, how can you actually know if he will not churn before ?
Subscription model give fast real time feedback on the install to purchase intent at the first step and is a real advantage in a post iOS 14 world where you will actually need early and simple feedback to optimise !
Subscription model also are long term and dynamic in pricing depending of the user experience ! You can directly push a yearly trial as Disney play did for instance and totally killed everything on the revenue they made from it ! You can as well adapt the price to the user and make it more flexible to each profile and different behaviour.
My Thoughts :
Subscription got a great future but to get a subscription you need a strong USPs with a Premium product.
Apple pay is the future of IAPs but IAPs will be highly regulated with less flexibility – maybe as regulated as the inapp store review popup.
iOS 14 as for goal to get faster more revenue and so actually increase the profit Apple makes from IAPs.
No ads and security is a redundant argument from Apple that can make some buisiness at risk if they push it harder.